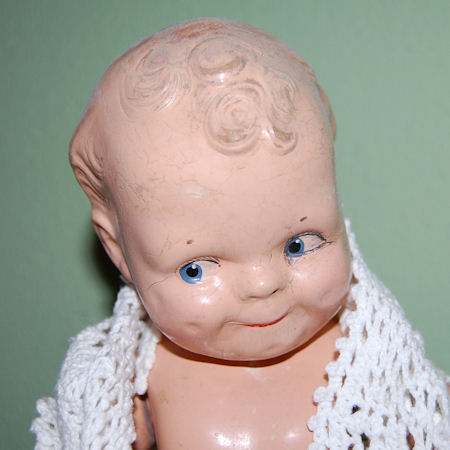 Dolls have never been my thing.  My mother, aunt and grandmother are all gaga over dolls, and have all sorts of collectibles.  My MIL,  Gadget's daughter and her mother are likewise all gaga over dolls. Their homes are bursting with dolls.
My son, BB, is freaked out over dolls.  I have one doll, and her home is atop a small bookcase in my bedroom.  BB doesn't want to be in the room alone with her.  And he's never even seen Chucky.  Lord have mercy on us all if ever he does.
I have this doll because she is a namesake.  When my mother was a child, she had two dolls.  One was named Susan, and the other a lovely musical S-name.   Her first two daughters were named for these dolls, and eventually, she gave the Susan doll to me.
Yesterday we visited Gadget's family for the day.  His aunt and uncle were visiting from Mississippi or thereabouts, and it was a rare opportunity to see them, as they are advanced in years and their health is declining.  At one point, Gadget's brother disappeared for a few moments to the back room, and returned with a tiny newborn baby cradled in his arms.  My heart skipped a beat, trying to process the information.  Where in the heck did that baby come from, why was it left alone until now, who was taking care of it, and so on.  A million questions spun through my mind.  And then, I realized it was a doll.
Which freaked me out a bit more, because it looked so real.  It looked like a dead baby.  Seriously.
As the story unfolds, an acquaintance of the aunt makes these dolls for a living, and they go for around $800.  They are commissioned, usually, and made to look like people's existing (or dearly departed) babies.  I missed the tale of why she gave one to the aunt, but I did hear the tale of how the doll-maker left one of these dolls in the back seat of her car while running errands one day.  The doll was in a bassinett, dressed in baby clothes, and the car windows were rolled up on a hot summer day.  People noticed and started tapping the glass to wake the baby.  The lady didn't return, the baby didn't respond, more people showed up, and finally the police were called, and they broke the car window to retrieve the baby.  At which time they discovered it was a doll.  Thank God.  When the maker finally returned, the police apologized for breaking her window, but said, "for GOD's sake, cover that thing up if you're going to leave it anywhere."
Anyhow, dolls creep me out.  They always have.  I don't know why.  And this doll, especially, was enough to stir me.  The details are incredible, down to the wrinkles in the hands and feet.  But it's just too much.  I can picture one of these dolls sending some poor barren woman with unhealthy baby obsessions over the deep edge.  And that woman could have been me (prior to my miracle boys).